Which is better? A Vertical Roof or a Horizontal Roof? 
Needing a new garage and not sure which roof option to choose? This pose will help you make that decision. Both roof styles have their pros and cons but the decision should come down to the climate in your area.
Horizontal roofs which are a cheaper option do not have a seam at the peak of the roof which could cause leaks in heavy rain. Always remember that preventing leaks is a major priority when needing to get the most life out of your garage.
Vertical roof garages will help drain the water from a rainstorm faster and allow for snow or other storm debris to fall off the roof faster. In climates that have a lot of snow a vertical roof is very important when it comes to the snow load of the building.
Pros of Having a Vertical Style Roof on Your Metal Garage
Most customers prefer a vertical roof for the look and drainage, but there are other factors to consider when deciding on which roof style to get:
Available with side entry.
Ability to blend in easier with other structures in residential areas.
Deep and full eve side trim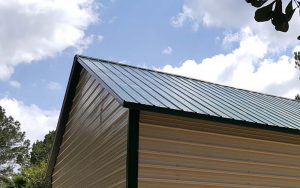 Pros of a Horizontal Metal Garage Roof
Requires less material
A cheaper option
In places with less snow it would be fine to use
Could fit in better with existing structures
Need Help Deciding Which Roof You Need?
We have building specialists standing by 24/7 to help answer your questions about roof style or other questions that might come up when you order your metal building from CarportCommander.com. Call us today at 1-800-688-6151 or Send Us a Message!